The Importance of Email Newsletters

Email has for a while now, taken a bit of a bashing. Internally, there have been companies making public statements renouncing its use – promoting the use of workplace social messaging platforms like Slack instead. And similarly externally, attention has been prioritised towards engaging with audiences on social media, over email.

But email is a resilient beast. And it isn't going anywhere anytime soon. Smart communicators recognise this, and know it to be a powerful channel to use – when of course, used correctly. And one way of using it well, is for the sending of email newsletters.

In a world where everyone is overloaded with information, as a result of constant unfettered access to everything digital, through ceaseless smartphone connectivity. A great email newsletter can become a place where you can talk to your audience directly. A space for just you and them. Which is a reason why research has shown that:


for every dollar you put into email marketing you get back 40x more than you would through Facebook, Instagram and almost every other marketing channel.
VentureBeat


Yet strangely, email newsletters remain one of the most underestimated communication tools available. This needs to change. Unsurprisingly then, we were delighted to see the brilliant Do Books Co (and super talented David Hieatt) dedicate a whole book aiming to recognise the importance of the humble email newsletter.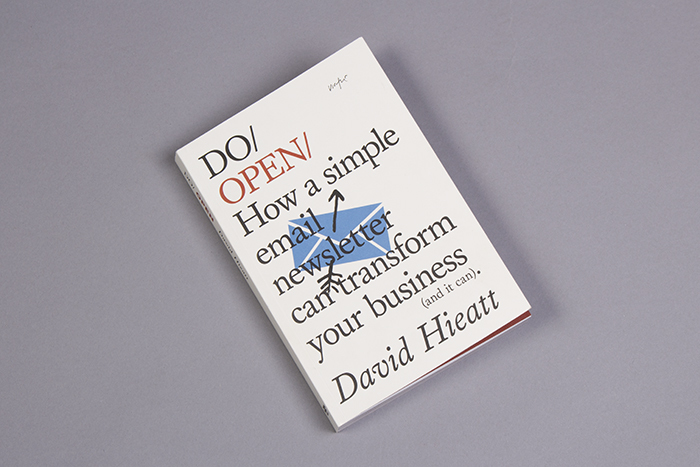 It really is a must read book, for both external and internal communicators alike. It's full of wisdom, inspiration, and actionable advice. The fact that Hieatt is responsible for one of the best email newsletters out there right now, will come as no surprise. This guy clearly understands what makes a great newsletter. 'Scrapboook Chronicles' is what he and his team create, which has helped play a huge part in the growth of his Jeans company – Hiut Denim.

The newsletter is worth checking out – you can sign up to it here.

Like all of the books in the Do Book Co. series, it's super easy to read. Short, to the point, and accompanied with great visuals. To be honest, you could probably finish it on your commute to work.

Within it, are some valuable learning's to be had. And so we thought it worthwhile to quickly bring these to your attention. These will no doubt help you to immediately up your newsletter game, and whet your appetite for what else you'll read in the book – once you've bought it!

Ultimately, what we'd love to achieve here is to persuade (and in some cases, remind) you of the effectiveness of well-made email newsletters.

Right, ok then. Here are what we think are the key points, after having read this great little book.



KEY POINTS FOR CREATING A GREAT EMAIL NEWSLETTER
Give it importance
All too often, a newsletter is something that will find itself quite far down on a list of priorities. As a result, only a small amount of time will be dedicated to it. And the time it does get, will probably be that of the interns, or another low ranking employee.

This then becomes a signifying to everyone else on how email newsletters are perceived within the business – poorly. Even the intern will rank it at the same level of tea making. Not that's what interns do these days, mind.

Raise the profile and importance of newsletters. It's something pretty easily done. Simply just make 'more important people' responsible for its creation. And there's no need to remove the Intern from it – they can still be involved.

And allocate more time to it. How can you expect to get great results from something, if you've not dedicated enough time to it? You get out what you put in.




Design is crucial
Good design is another signifying of the investment you have put in. Therefore, when readers of your newsletter experience good design, they will sense that you value your newsletter, and that you've put the time in, in order to create something valuable for them.

Good design also makes for a more pleasurable reading experience. Use imagery that inspires and provokes thought.

Ultimately, good, simple design is an essential factor for success.




Create value for the recipient
This should really go without saying. But you must be creating value for your readers. To do this you must have a clear understanding of your audience – their interests, problems and passions.

Then it is all about supplying them with content that will educate, inspire or entertain – giving them value!




Have focus – if needs be, use different email newsletters
Through an understanding of your audience, you'll be able to tailor specific content to them based on their needs.

If you find your audience to have a number of different needs and interests, then segmenting them is key. You may then find one newsletter trying to cater for all of your audience just not achievable. Having a clear focus is key. And so creating a number of different newsletters, which talk to specific audiences is what is required.

When you're audience feels like your newsletter is not relevant to them, they will start ignoring future editions. And ultimately unsubscribe. Always stay relevant.




Test and optimise
You can't manage what you can't measure
Drucker


Every newsletter email client offers up some basic form of measurement and optimisation. You should be taking advantage of it all.

– A/B test your subject headings.
– Test the design of some of your newsletters over others.
– Refine content, based on the types that experience higher rates of engagement than others.
– And unsubscribes, don't need to be all doom and gloom. Learn from them. Why did they unsubscribe? What can you change as a result of this understanding, to help prevent others from leaving?




Don't chase big numbers. Chase engagement
Thankfully, we've seen this shift in mind-set in the social world. Brands are no longer focussed on just trying to get more likes or followers. It is a currency that has lost its value. Smart marketers know it is all about increasing engagement.

You could have a newsletter with a huge subscriber base. But if no one is opening your email and reading the content, then those numbers are just pointless.

However, you could have a pretty modest number of subscribers. But if say 30% or more of them open up your email, and engage with the content – then even lowish numbers are creating good value for you.




Curate with a little bit of create
We talked about information overload at the very start. And what newsletters really are all about, is trying to help your audience in their battle against it.

The role of your newsletter is to filter out only the best content that your subscribers need to be reading. So that they don't have to do the filtering themselves – saving them a lot of time and effort. And greatly helping them with information overload.

You should see yourself as an editor. Editing the subject area to reveal only the most valuable content. And of course this editing process should mainly involve the curation of others valuable content to share. And time permitting the sharing of content you have created yourself.

A great mix of curated and created content is the perfect blend for a newsletter.




Conclusion
A point to finish with, is the fact that often communicators are guilty of chasing the latest platform or new app to communicate through. The danger however is the new platform or app may fall out of favour with your audience. To be no longer used, slowly fading away. Email however, well that doesn't look like fading away any time soon.

It's time communicators stopped ignoring a tried and tested comms tool – that works. And when done right, works extremely well.

Not much more to add here. Other than a couple of links for you:

1. A link for you to follow to go and buy the book, HERE.

2. A link for you to follow to sign up to our very own email newsletter, HERE. Especially useful for those involved with Internal Comms, Employee Engagement, Leadership, Digital workplace, and Design & Creativity.

Until next time…

Rima