How we use Infographics for clients and their Internal Comms

We're big fans of Infographics. Hardly surprising, given we share a common interest with them – both being visual storytellers.

Given this, we find ourselves turning to infographics quite regularly. However, most people seem to think infographics are for the sole use of marketing – predominately to raise awareness of your brand. Yet, it is within the world of Internal Communications where we are seeing their value (and so use) the most.


This is due to a number of reasons:

– Organisations recognise that employees are predominantly visual learners.

– Employees ever increasing use of mobile devices to consume content, means visual content is better suited – more digestible on smaller screens.

– Design is rising in importance within organisations – infographics help to cultivate this design-led culture.


Now we'll look at some of the ways we use infographics for Internal Comms – ways you can be using them within your organisation too.

We've identified there being five main categories of use:



1. Processes & Workflows

It's pretty simple to see the benefits of using infographics for processes and workflows. As essentially, infographics when used for these reasons should just be viewed as enhanced flowcharts.

Employees will best understand a workflow when it is presented to them visually. Describing how to do something by using a page of text is ineffective – it is after all, the reason why flowcharts exist.

Along the same lines of using infographics for processes & workflows, is using them for decision-making.

An infographic can help visualise the outcomes of certain decisions. Furthermore, once decisions have been made infographics can be used to communicate the resulting plans – whether it is marketing or strategic plans. An infographic can show the key points and goals – making it so much easier for everyone to understand.



2. Training / Education / Guides

Building on from the previous point, infographics are a great tool to use for learning in the workplace.

Their effectiveness lies in their ability to condense information down to the essential key takeaways. And when done so in a visual way, it leads to high levels of employee understanding and recall.

Do you think you'd best understand how to do a key part of your role by reading a one-page block of text? Or by reading a visual walk through of the steps you need to take?

Yep, exactly.

It's why we are seeing more and more infographics being used for training and educational purposes. Whether within training manuals, on posters or digital screens, in workshops, as part of the on-boarding procedure, or in company values and brand books. They are popping up in all forms of company literature and internal communication channels.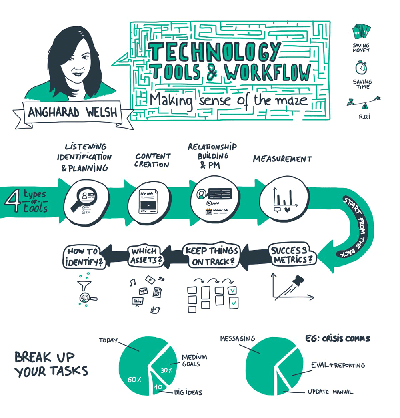 3. Recruitment

Creative, infographic style CV's have become somewhat commonplace. Below is a pretty good example of one.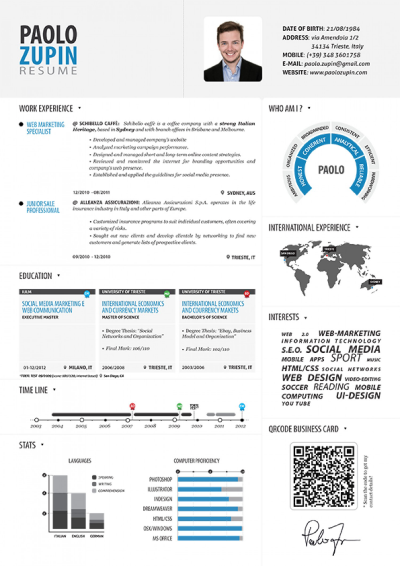 However, Infographics are not a format for the sole use of those applying for jobs, they can be used by those advertising them too.

Infographics can be a great way to show the job role, outline the responsibilities and scope. And also to show the benefits package available to the successful candidate. It will no doubt make your company more attractive to potential employees than a stale text doc with a bulleted boring list of role requirements.

And once new employees are onboard, infographics can be a great way for employees to understand HR policies and programs too.




4. Reports and research

Arguably, the best thing about infographics – well, what every infographic should be aiming to do – is to communicate information in the most concise way possible. Making it fast and easy for viewers to extract and comprehend the key comms messages.

Therefore infographics can be used within reports, to 'summarise' whole sections, to give the reader a top-level understanding. Then, if they want to know even more they can dig down further in the report/research by reading the detailed content that the infographic referenced.


We've also noticed some organisations taking this a stage further. So not just using infographics within their reports and research, but creating a whole version of their report in infographic (and often interactive) form.




5. Presentations

We all know that presentations should be visually led. Visuals are what capture and engage viewers, and are what help to land the key messages you are trying to get across in your presentation.

What is important to remember though, is that often infographics can be complex, so they can be tricky to use when placing into one slide. Viewers can find it hard to follow the infographic and digest all of the information it is trying to communicate.

It is best to break down an infographic into its key parts, and then to reveal it piece-by-piece, slide-by-slide. That way, the audience can focus on each key piece one at a time – making it easier to consume the content, and avoiding becoming distracted by the other parts of the infographic.

You can guide the audience through the infographic using an animation style. Whereby the infographic flows from slide to slide, with the end of one part of an infographic flowing into the adjoining next. Or you can simply break the infographic into stand-alone parts.

It's all about trying to avoid overwhelming the viewer with content. Each slide should visually say the absolute bare minimum that is required to get your point across.

Keep it simple.




Conclusion

Hopefully we've shown the huge versatility Infographics offer. And how infographics are not just a marketing tool, but a tool internal comms teams can use in a multiple number of ways.

Now, why not take a look at some of your existing materials, or look at the internal comms you are soon to be working on, and see if an infographic could be used – we bet it could.

If you need any infographic help, then we can certainly help you. Just ask.

Until next time…

Rima